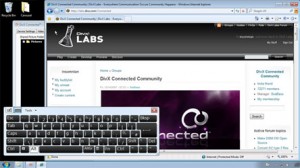 The ConnectedVNC plug-in for DivX Connected now includes ConCast, so you can hear your PC too!
By installing a SHOUTcast or Icecast server alongside DivX Connected, you can now listen to your PC while using it remotely on your TV, enabling you to enjoy applications like Spotify and iTunes from the comfort of your sofa!
Existing users will need to download the latest plug-in to upgrade.
For more information about streaming audio from your PC to your set-top box, please refer to the the ConCast plug-in page.
Please note: audio is optional and some users may experience a 1-2 second audio lag.
Download ConnectedVNC from DivX Connected plug-in library
Take a look at the DivX Connected set-top box